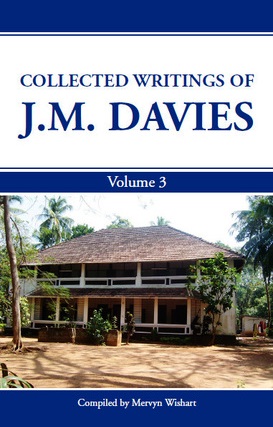 COLLECTED WRITINGS OF J.M. DAVIES
VOLUME THREE
VOLUME THREE CONTENTS
The Oracles of God
Articles on John's Gospel Chapters 1 – 5
Word Studies
Various Articles published in 'The Indian Christian' 1950-1955
The Footsteps of the Flock – Separation, False and True
The Mount Everest of Scripture and of Time Brief Studies on the Cross of Christ
Prison Letters, Epistles to The Colossians and Philemon
Mephibosheth, A short survey of Acts, Notes on the Olivet Discourse
About the author continued...

Mr and Mrs Davies were much involved in developing the orphanage at Trichur which still continues today.

Mr Davies also moved widely in the major cities of India engaged in Bible teaching. He took an uncompromising stand for the truth which he held dear. Mr T.G. Samuel was one of a number of Indian brethren associated with Mr Davies. Together they visited many villages in Andhra Pradesh. Also among his fellow labourers were Mr Handley Bird, Mr Silas Fox, Mr A Naismith and many others. Mr Davies also had periods of profitable ministry in Colombo, Sri Lanka.

In the mid nineteen sixties he began to move in a teaching ministry in many parts of the English speaking world. Mrs Davies passed away in 1967. After his remarriage in advanced years, Mr Davies and his wife were in fellowship and resided in Vancouver, B.C. where Mr Davies continued his service until he was called into the Lord's presence on November 22nd 1990, aged 95 years.
J.M. Davies
John Matthias Davies was born into a Baptist family in South Wales in 1895. As a boy of 15 he professed faith in Christ as a result of the earnest preaching of the local pastor. He emigrated to the USA in 1914 where he graduated from Moody Bible Institute and afterwards studied at Wheaton College where he acquired a working knowledge of Greek. During his student days he was greatly influenced by the ministry of Mr Alfred Mace in Chicago and after a time of deep conviction he was received into fellowship with a local assembly in the city.

He arrived in India as a missionary in 1920 commencing work in Bangalore, later moving to Trichur in Kerala state where he and his wife served the Lord for 40 years. He mastered the Malayalam language in such a way that hundreds came to his meetings simply to hear a foreigner speaking fluently in the local language.
© 2020 Scripture Teaching Library (Distribution) Ltd.