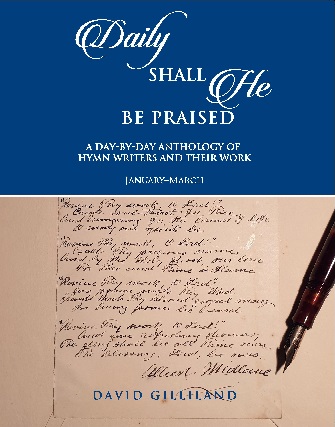 DAILY SHALL HE BE PRAISED
A DAY-TO-DAY ANTHOLOGY OF HYMN WRITERS AND THEIR WORK
JANUARY - MARCH
VOLUME 1
The impact of many works of art can often be best appreciated when surrounded by a frame which complements their message. So it is with our hymns. Many of them become even more precious and meaningful when some details of their author and circumstances of writing are known. The spiritual songs which so thrill our hearts, nourish our souls and express our faith, were not written in a vacuum. They sometimes took their rise in a situation of heart-rending grief. Some of the sweetest songs have been wrung from hearts crushed with sorrow and they are sung with deeper meaning when the background is known.

The volumes of this work take their readers on a journey through the 365 days (plus an extra day for a leap year) of a complete calendar year and recount something of the setting and stories connected with many of our favourite hymns, as well as some worthy hymns which are less well known. Each date is related to the anniversary of the writing of an individual hymn. It is quite amazing how the whole year is filled with praise and not a single day is missed! It is hoped that a recognition of this will stimulate daily praises from the hearts of those whose feet have been taken from the miry clay and set upon the rock, and whose mouths have been filled with a new song.

Why not commence each day with a daily reading and enjoy afresh the rich heritage and history of our hymns?

David Gilliland
resides in Lurgan, County Armagh and, for over thirty years, has been engaged full time in Gospel preaching and Bible teaching. Since shortly after his conversion, he has maintained a dedicated interest in Christian history and hymnology. This work is the result of his research in these fascinating fields.
DAILY SHALL HE BE PRAISED -
By David Gilliland
Having benefitted over many years from the ministry of our dear brother David Gilliland, I was looking forward immensely to reading his anthology of famous and not so well-known hymnwriters. The meticulous attention to detail, the fluency of communication in both oral and written ministry, the evident enjoyment of the topic with which our brother is engaged, have all found their way into these delightful volumes which are being compiled.
Many names and hymns I had never heard of before and the author has been selective in including only that information which is necessary for us to appreciate the writers and the hymns for which they are best remembered. There is not an overload of detail insomuch that an appetite is created for reading on to the next writer. The one major difficulty I have encountered is the inability to limit myself to the writer on that particular date and I had the first volume completed into early March.
I wholeheartedly commend these books, written in a unique format, to all, young and old, who have an interest in hymnology and wish to become more informed about those hymnwriters who have contributed much to the praise and worship of God's people over the centuries.
Review by Roy Reynolds
© 2020 Scripture Teaching Library (Distribution) Ltd.