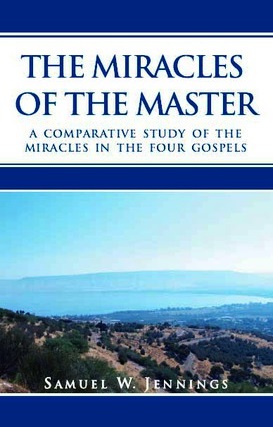 THE MIRACLES OF THE MASTER
A COMPARATIVE STUDY OF THE MIRACLES IN THE FOUR GOSPELS
The Miracles of the Master is a comparative study of our Lord's miracles in the four gospels. Matthew 11 and Luke 7 record the visit of two disciples of John the Baptist to the Lord Jesus. They were sent by the imprisoned prophet, with a vital and pressing question: 'Art Thou He that should come or look we for another?' The Lord responded, not with an eloquent defence of His Messiahship, but with a reminder of His miracle-working power. The disciples' news of 'how that the blind see, the lame walk, the lepers are cleansed, the deaf hear, the dead are raised' must have stilled John's doubts, and given him a renewed confidence in the One Whose coming he had so faithfully announced. For believers today, there is still instruction, blessing, and assurance to be gained from the consideration of the miracles of the Lord. This comprehensive, new study of the miracles of the Master in the four gospels will reward the reader with a fresh appreciation of the power of our Saviour, 'Who went about doing good, and healing all that were oppressed of the devil'.
Samuel W. Jennings
was commended to full time service in the work of the Lord in 1969. Since then he has spent his time preaching the gospel and teaching the Holy Scriptures in the United Kingdom, Ireland, Canada, the United States of America, and the West Indies. He is the author of a number of books, including The Perfect Servant Presented by Mark; The Man Sent from God (a study of the life of John the Baptist); and Alpha and Omega: Studies in the Book of Revelation.
© 2020 Scripture Teaching Library (Distribution) Ltd.